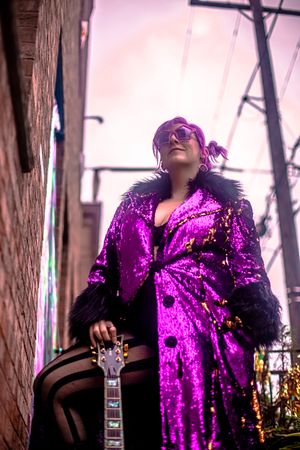 Bio
Maggie Mae is the Queen of funky female-fronted folk, soul, and rock & roll.. A Philadelphia-based force to be reckoned with, she pulls inspiration from the music she grew up on and the strong musical foundation her family built, along with the ever-evolving world of music around her to carve out a sound all her own. Combining genuine, heartfelt lyrics with catchy, cutting guitar riffs, her songs can either touch your soul or make you want to get up and dance.  She has been described as "poppy, polished, talented, & promising," by XPN's The Key's John Vettese, and graced the stages of World Cafe Live's Music Hall, Ladybug Music Festival, and the Philadelphia Folk Festival.
Originally hailing from Northern New Jersey, Maggie has always had music in her life. Her parents met in college and formed a bluegrass band called 'The Wild Oats,' and later performed throughout New Jersey with various traditional Irish bands. Her father instilled a love for 'all things string' from a very young age, and her mother always encouraged her to write and sing. With a Steinway Grand piano in her living room, and fiddles, penny whistles, hand drums, dulcimers, harps, mandolins, banjos, and guitars littered throughout her childhood home, Maggie has managed to pick up and write with just about any stringed instrument she can find. Growing up, she was always attending folk & bluegrass festivals, making sure she was up front for favorites like Martin Sexton, Dar Williams, Vance Gilbert, and Railroad Earth. Rock and Blues legends including Led Zeppelin, Pink Floyd, The Allmann Brothers, and Bonnie Raitt were always on heavy rotation in her house. During her time attaining an Associate's Degree in Music Performance, Maggie cultivated a love and appreciation for classical, jazz, funk, world, and jam music, and deepened her knowledge of jazz and bluegrass standards. She also fell deeply in love with one-man-band greats Michael Hedges and Keller Williams, leading her to discover and navigate the world of percussive guitar and loop pedals and effects. She puts all of this together to inspire, and continuously develop, the sound she creates today.
Maggie has managed to round up a talented, ever-rotating cast of characters to support her over the years, featuring some of Philly's most talented musicians. No matter which lineup is sharing the spotlight with her, the band always brings an impressively varied set of skills and an undeniable energy to the stage. Maggie Mae has shared bills with both local and national acts including Soulive, The Heavy Pets, Dawg Yawp, Lohai, Lee Rocker of the Stray Cats, the Ladles, and more at many of Philly and New Jersey's premiere music venues. 
October 2020 marked the release of the band's first fully produced single, 'Hometown,' which was recorded at Rittenhouse Soundworks with Michael Cumming engineering and Robby Webb producing. 'Hometown' is available everywhere. Listen to it here. In late 2021, after successfully raising $12,000 via IndieGogo, Maggie began working hard in the studio with Robby Webb to produce the band's first full-length album. She plans to release the album, "Welcome to the Party!" by early 2024.
Be a part of this rising band's journey by checking out their music, following on all social media platforms, and signing up for the e-mail list below! We can't do it without your support!